...the Dollar Store way of course!
Williams Sonoma has this fine Easter egg for sale for $26.00!
Enchanted Filled Easter Egg, Source: www.williams-sonoma.com
Here's my Dollar Store version.
Cost $3.00 to make the egg and less than $2.00 for the filler. To be fair, the WS version comes packed with candy for Easter gift giving. Sadly, mine contains no candy (trust me, we don't need it!)
I started with a large plastic Easter egg from Dollar Tree. In my enthusiasm to start painting I forgot to snap a pic. It was clear on top and yellow on the bottom. Sort of like this one.
I painted both halves of the egg with craft paint in "Butter". Then I cut out a design that says "Happy Easter" from one of these Dollar Tree paper treat bags.
I used Mod Podge (first time!) to glue the paper to the egg. This part was tricky since the paper is flat and the surface of the egg is rounded. The creases were killing me! I did my best to smooth is all out.
When that was dry I wiped on some Old English to get a vintage-y feel like in the inspiration egg from WS and glued a dollar store ribbon along the edges of both halves. Then I just tossed in some spanish moss and foam eggs also from Dollar Tree for the filler.
Thanks for visiting!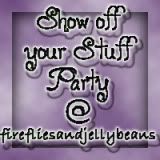 http://somedaycrafts.blogspot.com/2010/03/whatever-goes-wednesday-6.html