A long time ago I started working on decorating our living room and then the whole project ran out of steam. We completed a picture frame moulding project and painted and that was about it. Here's a look at the fireplace wall from the house listing before we moved in.
And here it is after the moulding project.
I loved the picture frame moulding but I still had no real decorating direction (or furniture). The orange-y red brick fireplace just never seemed to blend. And maybe that was throwing me off? So one day after a Pinterest perusal I decided to paint the brick black! (You can check out my Pinterest inspirations for the fireplace and the whole room
here
.)
I used what I had: Annie Sloan Graphite Chalk Paint. I painted the first coat alternating between a regular sash brush and a round chalk paint brush to get in all the nooks and crannies of the brick. Before the second coat I got smart and thinned out the paint a bit so the coverage was MUCH easier and faster! If you attempt a project like this, thinning the paint is key.
I am so pleased with our new fireplace! The black brick feels so much more sophisticated. But the fireplace looked so lonely without any furniture flanking it. I thought about constructing built-in shelving on either side but finally decided to pick up two Ikea
Vittsjo
units instead! So much faster and inexpensive at $70 a pop.
Vittsjo looks super cute in gold or turquoise but I actually like the natural finish in this room. I have a lot of fun
crap
decor items hidden away in closets and dark corners. So much more fun to let those items see the light!
These wood finials were once antique table legs. I scored those from my friend
Terry
who is a dealer at
Sweet Clover
. He always has the best salvaged stuff. I also sprayed the thrifted faux bamboo mirror white to complete the mantel.
Of course I included pics of my favorite little ones and I finally have place to display my decorating and crafting books.
The rest of the room is also undergoing a little makeover which is not quite ready yet. A little teaser: the color scheme is based on the table runner visible on the bottom right of the photo above. (YES it includes pink!)
Thanks for visiting!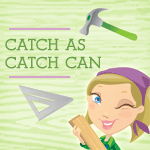 http://www.myrepurposedlife.com/2013/12/catch-as-catch-can-141.html?utm_source=feedburner&utm_medium=feed&utm_campaign=Feed: